Aquamarine Gemstone Beads, Pendants and Cabochons
Premium quality wholesale Aquamarine gemstone beads, pendants and cabochons for jewelry making and designing. Carefully selected gemstones help you create outstanding necklaces, bracelets and earrings. Aquamarine is a very hard gemstone that comes in a range of blues from light to dark. It is often a favorite of those who purchase jewelry. While the gem quality Aquamarine stone is free of inclusions, other specimens have these along with opaque areas. Store this gemstone in a dark place since sunlight may pale its color. Aquamarine is mined in Afghanistan, Brazil, India, Madagascar, Mozambique, Pakistan and Russia. The name Aquamarine is derived from "water" and "seas", therefore, it makes sense that some believe it is a lucky stone for sailors preventing seasickness and protecting them from other perils of the sea. Some imply that Aquamarine may aid in healing nerve pain, toothaches, glandular problems and disorders of the neck, jaw and throat.
Aquarmarine faceted barrel nugget gemstone beads (N) 10 x 11.9 to 10.4 x 17.8mm, 7 to 8mm thick. 15.7 inch. One only
Aquarmarine faceted barrel nugget gemstone beads (N) 9 x 11mm to 9 x 16mm, 6 to 6.6mm thick. 15.7 inch. One only.
Aquamarine graduated barrel rondelle gemstone beads (N) Barrels 10-17.5mm diameter, 18-35mm long. Rondelles 8-15mm diameter, 4.5-7.2mm thick.
Aquamarine nugget gemstone beads (N) 10x12mm to at least 12x16mm, 8-11mm thick. 15.5 – 16 inch.
Aquamarine round gemstone beads (N) 4.1mm diameter. 15.25 inch.
10 Aquarmarine puff coin gemstone beads (N) 8.1 to 8.3mm diameter, 4.3 to 4.7mm thick. 10 pieces.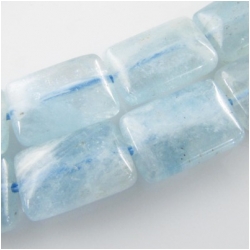 4 Aquarmarine rectangle gemstone beads (N) 8 x 12mm to 8.3 x 12.2mm, 4.3 to 5mm thick.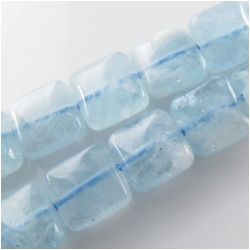 6 Aquarmarine puff square gemstone beads (N) 8 to 8.3mm, 4.3 to 4.8mm thick. 6 pieces.
Disclaimer: This information has come from many sources. We are not responsible for the information presented on this page expressed or implied about the suitability of this stone for healing or for curing diseases. The information here is provided for you to make your own decisions and has not been evaluated or approved by FDA or any other agencies. This list is protected by copyright. If you should decide to use it you must link to this page as the source and to Dr. Karen Meador as the Author.