Breciated Jasper Gemstone Beads, Pendants and Cabochons
Premium quality wholesale Brecciated Jasper gemstone beads, pendants and cabochons for jewelry making and designing. Carefully selected gemstones help you create outstanding necklaces, bracelets and earrings. Brecciated jasper, like other brecciated stones, is composed of broken fragments of minerals or rocks that came together. In this case, they form a rusty red stone that has white streaks and web looking patterns. Brecciated Jasper is used by jewelry makers in combination with a variety of other gemstones. Known as a stone of strength and vitality, Brecciated Jasper is used by some as a worry stone due to its calming, nurturing properties. It is also supposed to help to remove negativity from any space. Some say it aides with sexual compatibility and helps in overcoming sexual guilt. It has been used to help develop creativity and provide aid to those who are overwhelmed by the task of organization.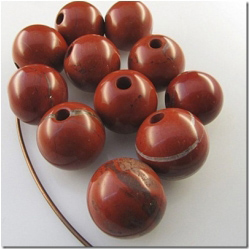 1 Breciated jasper big hole round gemstone bead (N) Approximately 18 to 20mm diameter, 3mm hole. Some scratches.
One breciated jasper 18 x 30mm frog pendant gemstone bead(N). 2mm hole in head.
One breciated jasper kokopelli gemstone pendant bead(N). 26 x 41mm.
Ten Brecciated Jasper elephant gemstone beads(N). Approximately 8 x 13mm.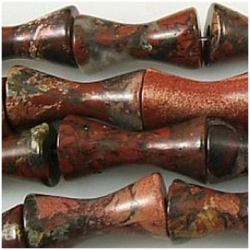 Five Breciated Jasper hour glass tube gemstone bead(N) 9 x 19mm with a 2mm hole.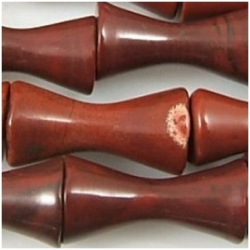 5 Breciated Jasper hour glass gemstone tube beads(N) 9 x 19mm. 1.5mm hole.
One 15.5 inch strand Breciated Jasper B rondelle gemstone beads(N). 4-4.2mm diameter, 2.5-3mm thick.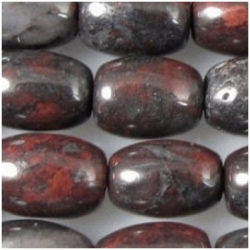 One 15.5 inch strand Breciated Jasper rice gemstone beads(N). 4x6mm
One 16 inch strand Breciated Jasper rondelle gemstone beads(N). 8 to 8.4mm diameter, 5 to 5.4mm thick.
Disclaimer: This information has come from many sources. We are not responsible for the information presented on this page expressed or implied about the suitability of this stone for healing or for curing diseases. The information here is provided for you to make your own decisions and has not been evaluated or approved by FDA or any other agencies. This list is protected by copyright. If you should decide to use it you must link to this page as the source and to Dr. Karen Meador as the Author.