Gaspeite Gemstone Beads, Pendants and Cabochons
Premium quality wholesale Gaspeite gemstone beads, pendants and cabochons for jewelry making and designing. Carefully selected gemstones help you create outstanding necklaces, bracelets and earrings. Gaspeite is an extremely rare pale to apple green mineral usually found near deposits of nickel sulfide. Jewelry makers appreciate the nice color this gemstone can add to a piece. Originally discovered in Canada, Gaspeite has more recently been found in Australia although that is now largely picked over; thus, its rarity. Gaspeite has also been found in Tasmania. Gaspeite has been known to be used for healing problems with the heart, lungs and gallbladder. It is also said to help reduce distress, bring assurance, reduce ignorance and attract friendship.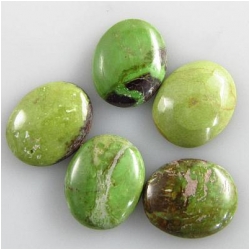 5 Gaspeite oval cabochon loose cut gemstones (S) Approximately 8 x 10mm, 1.7 to 2.7mm thick. Five pieces.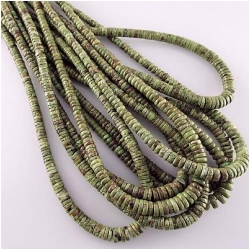 One 16 inch strand Australian Gaspeite graduated disc rondelle gemstone beads (S) 4 to 7mm diameter, 1.5-3mm thick.
One 16 inch strand Australian Gaspeite heishi gemstone beads (S). 5.3-5.6mm diameter. 1.7-3mm thick
Disclaimer: This information has come from many sources. We are not responsible for the information presented on this page expressed or implied about the suitability of this stone for healing or for curing diseases. The information here is provided for you to make your own decisions and has not been evaluated or approved by FDA or any other agencies. This list is protected by copyright. If you should decide to use it you must link to this page as the source and to Dr. Karen Meador as the Author.