Poppy Jasper Gemstone Beads, Pendants and Cabochons
Premium quality wholesale Poppy Jasper gemstone beads, pendants and cabochons for jewelry making and designing. Carefully selected gemstones help you create outstanding necklaces, bracelets and earrings. Poppy jasper, which is brick red with shades of brown or black, is found in Spain and in California. It may also have shades of golden yellows, cream or white. Used by warriors in the Middle Ages to promote courage in battle, it can be thought to enhance strength and will power. It supposedly makes the wearer feel happy and has been used for helping to heal heart and blood disorder problems. Do not use this stone if you are pregnant.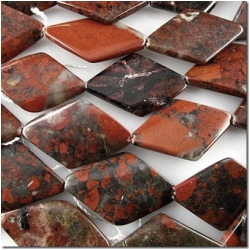 Poppy jasper diamond rhombus gemstone beads (N) 18.2 x 28.5mm to 19.5 x 29.5mm, 3 to 4mm thick. Some chipped holes. 16 inch.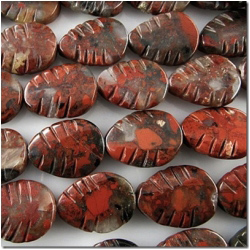 Poppy jasper leaf gemstone beads (N) 14.4 x 19.4mm to 15.2 x 20mm, 3.7 to 4.8mm thick. Some chips, rough spots. 16 inch.
One 15" strand Porcelain Jasper flat drop beads 12x17mm to2.5x17.8mm 4.5-5mm thick.
Disclaimer: This information has come from many sources. We are not responsible for the information presented on this page expressed or implied about the suitability of this stone for healing or for curing diseases. The information here is provided for you to make your own decisions and has not been evaluated or approved by FDA or any other agencies. This list is protected by copyright. If you should decide to use it you must link to this page as the source and to Dr. Karen Meador as the Author.