Gem and Bead Shows
Gemstone Beads - Wholesale and High Quality - Magpie Gemstones, the jewelry designers source for wholesale premium gemstone beads, turquoise, and jewelry supplies.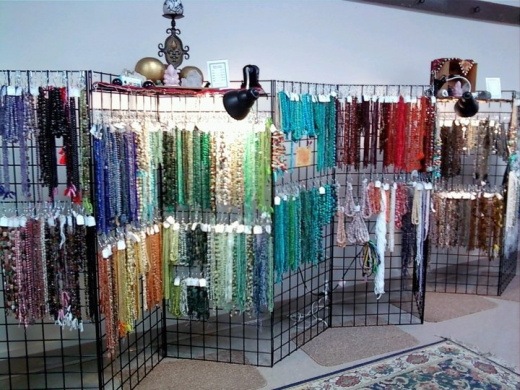 A list of shows close to Austin, Dallas, San Antonio and Houston where the gems and beads get to come out and play.

Come out and see the gemstones in person at the following venues listed below.

Follow us on Facebook or sign up for our newsletter at the show to get the latest code for a deal at the show.
---
Gem Show Secret Word!

Just say the word Cappuccino
to Kateri and get 10% off any size order!
---


November 2016

Houston Gem and Mineral Show ~ Humble, Texas
Nov 11-13, Fri & Sat 9am-6pm, Sun 10am-5pm
Humble Civic Center
8233 Will Clayton Parkway
Humble, TX 77338
Admission is $8 for adults, $6 for students and teachers with ID and seniors 65+, kids 10 and under are free with adult.
Free parking.

Dallas Gem and Mineral Show ~ Dallas, TX
Nov 19-20, Sat 10am-6pm, Sun 10am-5pm
Rodeo Center Exhibit Hall
1800 Rodeo Dr.
Mesquite, TX 75149
Admission is $8 for adults, $3 for 4-12 yr olds, free to 3 yrs and under and scouts in uniform. Family of 4 is $20.
Free parking.

Mobile Gem and Mineral Show ~ Mobile, Alabama
Nov 25-27, Friday 1pm-6pm, Saturday 9am-6pm, Sunday 10am-5pm
Abba Shrine Center
7701 Hitt Rd
Mobile, AL 36695
Admission is $4 for adults, free for kids 12 and under with an adult.
Free parking.

December 2016

Coexist Festival ~ San Antonio, Texas
Dec 4th, Sunday 11am-5pm
Airport Hilton
611 NW Loop 410
San Antonio, TX 78216
Free admission and free parking.


February 2017

Williamson County Gem and Mineral Show ~ Georgetown, Texas
Dates TBA, Sat 10am-6pm, Sun 10am-5pm
Community Center at San Gabriel Park
445 E. Morrow St.
Georgetown, TX 78628
Admission is $3 for adults, $2 for kids 6-12, free for kids under 6.
Free parking.

Clearlake Gem and Mineral Show ~ Pasadena, Texas
Feb 25-26, Sat 10am-6pm, Sun 10am-5pm
Pasadena Convention Center
7902 Fairmont Pkwy
Pasadena, TX 77507
(Southeast of the Houston metro area, 2.5 miles east of Beltway8)
Admission is $7 for adults, $3 for students grades 6-12, free for children under grade 6.
Free parking.

March 2017

56th Annual Fiesta of Gems ~ San Antonio, Texas
Dates TBA, Sat 10am-6pm, Sun 10am-4pm
San Antonio Event Center
8111 Meadow Leaf Drive (corner of I-410 and Marbach)
San Antonio, TX 78227
Admission is $5 for adults, $3 for seniors and military, $2 for students, and $1 for children.

April 2017

Chihuahuan Desert Gem & Mineral Show ~ Alpine, Texas
Dates TBA, Fri & Sat 9am-6pm, Sun 10am-4pm
Alpine Civic Center
100 N 13th St
Alpine TX 79830
Admission & parking are free.

Waco Gem & Mneral Show ~ Waco, Texas
April 29-30, Sat 9am-6pm, Sun 10am-5pm
Extraco Events Center
4601 Bosque Blvd
Waco, TX 76710
Admission is $5 for adults, $1 for kids ages 6-12, free to scouts in uniform.
Parking is free.

May 2017

Lubbock Gem and Mineral Show ~ Lubbock, Texas
Dates TBA, Sat 10am-6pm, Sun 10am-5pm
Lubbock Civic Center
1501 Mac Davis Lane
Lubbock, TX 79401

July 2017

Arlington Gem and Mineral Show ~ Grapevine, Texas
Dates and Times TBA
Grapevine Convention Center
1209 South Main St
Grapevine, TX 76051
Admission: $6 adults, $3 seniors and kids ages 6-12, free for scouts in uniform and active military.
Free parking.

August 2017

Baton Rouge Gem and Mineral Show ~ Gonzales, Louisiana
Dates TBA, Sat & Sun 10am-5pm
Lamar-Dixon Expo Center
Trademart Building
9039 South St Landry Ave
Gonzales, LA 70737
Admission: $5 adults, $3 children 12 and over, free for kids 4 years and under, free for military with ID.
Free parking.

Ark-La-Tex Gem and Mineral Show ~ Bossier City, Louisiana
Dates TBA, Sat 10am-6pm, Sun 10am-5pm
Bossier Civic Center
620 Benton Rd
Bossier City, LA 71111
Admission: $4 adults, free for kids under 12 and girl scouts and boy scouts in uniform, $1 discounts for students with ID.
Free parking.

September 2017

Denver Gem and Mineral Show ~ Denver, Colorado
Dates TBA, Fri 9am-6pm, Sat 10am-6pm, Sun 10am-5pm
Denver Mart Expo Hall
451 E. 58th St. (Exit 215 on I-25)
Denver, CO 80216
Admission: $6 adults, $4 seniors 65+ and teenagers, 13 and under are free with an adult.
Free parking.

October 2017

Roswell Gem and Mineral Show ~ Roswell, New Mexico
Dates TBA, Sat 9am-5pm, Sun 10am-4pm
Address TBA
Admisssion: $5 adults, $3 children, kids under 12 are free with an adult.
Free parking.

Sacred Springs Powwow ~ San Marcos, Texas
Oct 1th, Sat 10am-6pm
Meadows Center
201 San Marcos Springs Dr.
San Marcos, TX 78666
Admssion: $3 adults, children under 12 are free.
Free Parking.

Tri-Cities Gem and Mineral Show ~ Temple, Texas
Dates TBA, Sat 9am-6pm, Sun 10am-5pm
Mayborn Civic and Convention Center
3303 N. 3rd St.
Temple, TX 76501
Admission: $5 adults, $2 children.
Free parking.

New Orleans Gem and Mineral Show ~ Westwego, Louisiana
Dates TBA, Fri & Sat 10am-6pm, Sun 10am-4pm
The Alario Center
2000 Segnette Boulevard
Westwego, LA 70094
Free parking.

Austin Gem and Mineral Show ~ Austin, Texas
Dates TBA, Fri & Sat 9am-6pm, Sun 10am-5pm
Palmer Events Center
900 Barton Springs
Austin, TX 78704
Admission: $8 adults, $7 seniors, $2 ages 13-18, free for 12 years and younger.

Oklahoma Gem and Mineral Show ~ Oklahoma City, Oklahoma
Dates TBA, Sat 9am-6pm, Sun 9am-5pm
Oklahoma State Fairgrounds
Modern Living Building
3001 General Pershing Drive
Oklahoma City, OK 73107