Wholesale, High Quality Gemstone Beads - Magpie Gemstones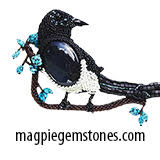 Welcome to Magpie Gemstones Wholesale Mobile Site where you get "Great Beads for Great People".
If you wish to see the full site and learn about wholesale discounts please scroll to the bottom and click the blue text that says "Full Website" or click the sitemap to see all of the available links.
There you will have access to over a hundred free tutorials, information on our discounts and so much more.
If you need any help feel free to give us a call 847-337-7298 or drop us a line at magpie@magpiegemstones.com