Creative Thinking in Jewelry Design Part 4
Stretching to Find New Ideas with SCAMPER
Previous sections of this series on creative thinking discussed fluency, flexibility, originality and elaboration. If you recognized the importance of these components for designing unique jewelry, you may have scratched your head at the end of Part III and wondered how to use them to create something new and different. This part of the series discusses one of the common tools for doing just that. SCAMPER, an acronym for words that can generate ideas, originated from a list created by Alex Osborn and was developed by Bob Eberle. Books and articles on the topic abound and you can find information through at following sites:
http://creatingminds.org/tools/scamper.htm
http://www.brainstorming.co.uk/tutorials/scampertutorial.html
SCAMPER stands for substitute, combine, adapt, modify, put to other uses, eliminate and rearrange or reverse. These words can guide your thinking when you are attempting to change a jewelry design or part thereof. Use it when some part of the jewelry design isn't working out and you want to modify it. SCAMPER will help you figure out what to do.
As an illustration, let's consider an ordinary sterling silver bezel soldered onto a piece of sterling silver and fashioned for a pendant. You've decided that it would be interesting to do something different for the next pendant, but don't know what you want to try. Let's SCAMPER and generate ideas for later consideration, avoiding judging them during the idea generation process.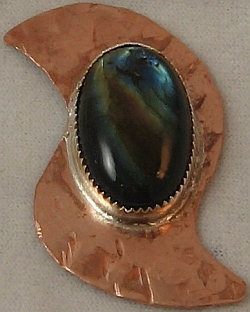 S: What might we substitute for some component of the common bezel described above? This picture shows that I selected to substitute a shaped piece of copper for the sterling silver backing. What else could be substituted?
C: What might we combine with the bezel to create something new? The following shows how I added sterling silver wire to the bezel for interest. Instead, I could have added something using a cold connection. What would you combine with the bezel?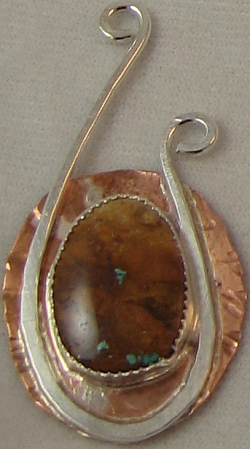 A: What might we do to adapt this bezel or some part of it? I thought about putting connectors at each end of the bezel and using it for a link in a necklace rather than as a pendant. (This might also be considered "putting to other uses.") How else could we adapt it?
M: In what ways might we modify, magnify or minify (make smaller) the bezel or some part of it? Using the idea of minifying, I attempted to put three smaller stones in one larger bezel. You can't really see this from the picture, but the bezel hold three rectangular shaped stones. Is there another part of the bezel that could be enlarged or made smaller?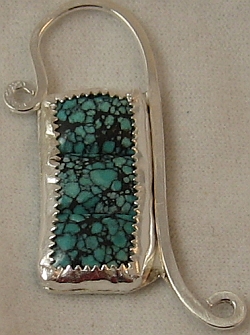 P: How might we put the bezel or a component of it to another use? I didn't try it, but I could solder the bezel wire flat to the backing for decoration. I might also use the entire bezel on a headband or hair ornament rather than as a pendant. How would you use it in another way?
E: In what ways might we eliminate something on the bezel? While I haven't constructed it yet, I have in mind eliminating part of the metal sheet on the bezel back, creating a half moon shape, in such a way that a very small part of the stone has no backing. I would then place a larger piece of a different type of metal behind the entire piece. Can you eliminate something else?
R: How might we reverse or rearrange part of the bezel? It might be possible to use the bezel wire over the top of the stone and solder it on each end. Instead, I could rearrange the stone placement to make it asymmetrical on the shaped metal back. Would you arrange it another way?
I will admit that some of the ideas above sound a little strange, but that's good. If you don't have any crazy ideas, you haven't stretched far enough in your thinking. Hopefully, there will be at least one among those that is useable even though it requires some modification. As I look at the list generated for the bezel, I can truly say there are several ideas I would not have thought of without using SCAMPER.
I would caution you again to reserve judgment of ideas while generating them. If you judge your ideas during the brainstorming process, you may seriously impair creative thought. Just let the ideas flow without worrying about how to actually make them work. I have to remind myself to forget that I don't have the supplies for making or that I don't understanding the technique needed to create the idea generated. I just jot it down and keep going. I also must remember that I don't have to use every letter in SCAMPER. Some of them just don't work for certain jewelry design problems. I'm also not going to worry about whether an idea is actually a "combine" or a "modify". It doesn't matter. I just want lots of ideas.
I hope you will give SCAMPER a try. I truthfully tell you that of the many creative thinking techniques that I've learned, SCAMPER is the one I have used the most. From jewelry design to cooking to other types of problem solving, I'm stretching with SCAMPER.
Part One Of This Series Here.
Karen Meador
**Contributing authors are noted in the articles they wrote. All articles are copyright. You can reprint these articles as long as the original author is sited and a link to this website is included. The name Magpie Gemstones must be used as the hypertext.