Gem and Bead Shows
Gemstone Beads - Wholesale and High Quality - Magpie Gemstones, the jewelry designers source for wholesale premium gemstone beads, turquoise, and jewelry supplies.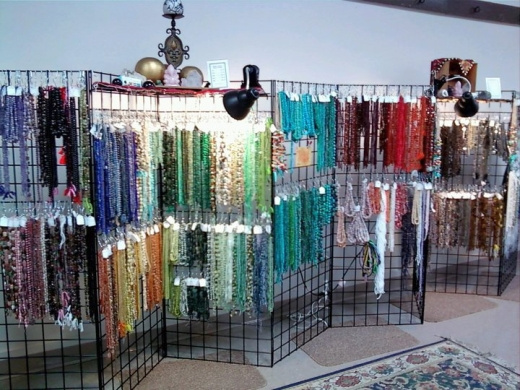 A list of shows close to Austin, Dallas, San Antonio and Houston where the gems, beads, and crystals get to come out and play.
Plus, now in Milwaukee and Philadelphia with Magpie Gemstones,
Wendy and Dave.
Texas Magpie carries unique handpicked mineral specimens, crystals, metaphysical items, and more. They can be found at the Gem and Mineral Shows listed below.

Magpie Gemstones will have the beads and gemstones out at Bead Shows and Open House listed below.

See you soon!

---
Weekly at the Magpie Gemstones Store! - Saint Charles, Illinois
Tuesdays through Saturdays 10am-5pm, Thursday until 7pm and Sundays 11am-5pm
1501 Indiana Ave - Inside Industrial Treasures
Saint Charles, IL 60174
February 2024
52nd Annual Georgetown Gem and Mineral Show - Georgetown, Texas
Dates TBA, Sat 10am-6pm, Sun 10am-4pm
Community Center at San Gabriel Park
445 East Morrow St
Georgetown, TX 78628
Admission: (CASH only, no large bills) $3 adults ages 13+, $2 ages 6-12, free for children under 6.
Free parking.


March 2024

54th Annual Big Spring Prospectors Club Show - Big Spring, Texas
Date TBA, Sat 9am-5pm & Sun 10am-5pm
Howard County Fair Barn
2900 Old State Highway 80
Big Spring, TX
Admission: Free
48th Annual Clearlake Gem and Mineral Show - Pasadena, Texas
Date TBA, Sat 10am-6pm & Sun 10am-5pm
Pasadena Convention Center
7902 Fairmont Parkway
Pasadena, TX
Admission: $7 adults, $3 for students grades 6-12, free for children and scouts in uniform.
Free Parking