Fold Forming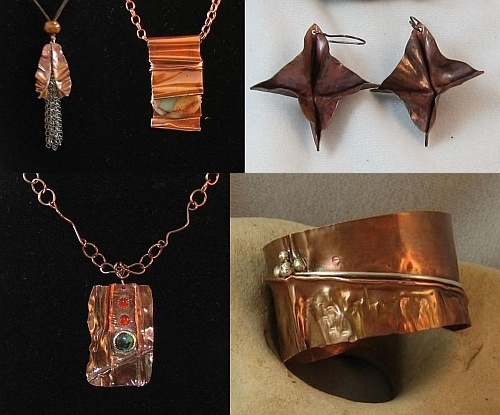 Introduction to Fold Forming
Karen Meador, Ph.D.
Charles Lewton-Brain invented the technique known as foldforming in the late 1980s, creating a major innovation in metalworking. This brief article presents basic information about foldforming and does not provide specific "how to" information about the technique. There is information available on the internet, including Youtube.com if you have interest in learning how to create metal shapes with foldforming. Be sure to check http://www.ganoksin.com/ for articles by Charles Lewton-Brain and/or those relating specifically to foldforming. This site also provides a plethora of information on other jewelry-related techniques.
Wikipedia describes fold-forming as "a technique of metalworking whereby metal is folded, repeatedly forged and annealed, and unfolded . . ." (http://en.wikipedia.org/wiki/Fold-forming)
You can see from the photos that this technique allows metalworkers to create three-dimensional forms and innovative shapes. We might describe fold-forming as the convergence of origami and traditional metalwork. The focus of this article is on fold-forming in jewelry, even though this technique is used for much larger projects such as bowls and sculptures.
Names are given to the basic folds used in fold-forming and you might hear metalworkers discussing the use of Line-Folds, T-Folds, Cross-Folds, the Rueger Fold or others. A careful read of the introduction to Charles Lewton-Brain's seminal book, simply titled Foldforming, affords us a glance into the thoughts of the author. He talks about his early study with Klaus Ullrich in West Germany who encouraged students to play with the metal. At this time, Lewton-Brain explored the concept of "forming using metal characteristics" and eventually expanded that exploration into a system.
Ulrich's philosophy of exploration in which he suggested students should "[s]ee what the metal wants. Listen to it and then release its expression," led Lewton-Brain to let the metal do what comes naturally. Ulrich also encouraged students to exploit both traditional and non-traditional metals for jewelry and Lewton-Brain suggests the initial use of less-expensive metals like copper when working out artistic ideas. I have read and reread the introduction to Foldforming and have never found a philosophy that so closely aligns with my own as well as that of many creative individuals.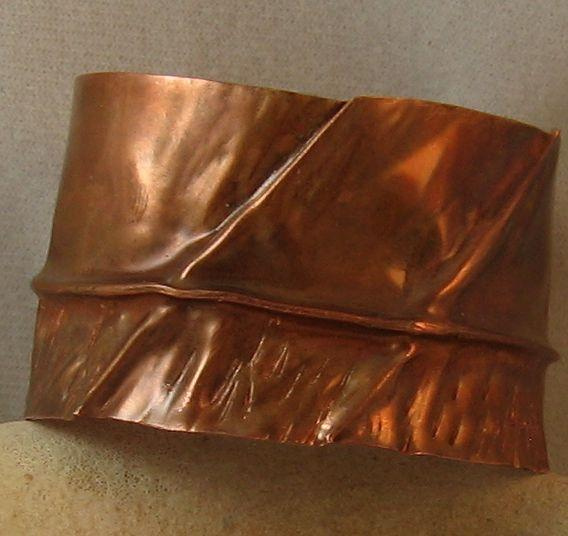 It is not difficult to begin to experiment with foldforming. Basic tools include a bench block or anvil, a hammer and a torch for annealing. With these few tools at a minimum you can create Line-Folds. I used multiple line folds on the bracelet shown below.
If you want to go beyond simplistic work, there are multiple other tools such as a vise, various hammers, opening tools etc. that are needed. I can vouch for the fact that it is frustrating to attempt the more intricate shapes without the proper tools. I have also learned that annealing the metal often is a must. A back and forth dance between the hammer and the torch simplifies your work.
For the past year, I've noticed more and more metal workers who are using foldforming in jewelry design. This could, of course, simply be because I'm interest in it and pay attention; however, I don't think this is the case. Most jewelry designers are constantly looking for new ideas and foldforming is certainly a fertile field. I hope that these designers will create innovative ways to use the various folds rather than simply reproducing what has already been done.
For thousands of years, metal working techniques have been shared among jewelers and metalsmiths. It seems to me that most of the techniques used in metalsmithing require precision and practice as the apprentice attempts to replicate the fine work of the master. The advent and new predominance of the home jewelry designer often skirts many of the apprentice years and may place considerable focus on the creative process. Some might argue that this has weakened the craft while others profess it has made it stronger. I believe that the creative home jewelry designer who also hones the techniques of the masters has a great opportunity to contribute to our field. Whether we weaken or strengthen it, we all must admit that innovation is alive and well in the metal craft and it's easy to report that Charles Lewton-Brain is a major contributor to this arena.
Karen Meador
**Contributing authors are noted in the articles they wrote. All articles are copyright. You can reprint these articles as long as the original author is sited and a link to this website is included. The name Magpie Gemstones must be used as the hypertext.