Multistrand Necklaces Part 2
Using connectors to make multistrand necklaces
Multistrand Necklaces: Part II-Using Connectors
Karen Meador, Ph.D.
I hope you have grabbed a few moments to read and look at the photos in Part I of this discussion regarding how to create multistrand necklaces. The information provided in both of these parts refers mainly to multistrand pieces wherein the strands vary in length. There are many beautiful pieces where the strands are basically all the same length and overlap. Before proceeding with information in this Part II, I wanted you to see some examples of this type necklace made by Magpie Gemstones Owner, Szarka. I appreciate the interesting way in which she brings the strands together and then apart again with beads.

The following information continues the discussion of multistrand jewelry pieces and takes a look at findings for use with multistrand necklaces. The basic findings include multistrand clasps, multistrand end pieces and multistrand separators. Each will be discussed separately herein.
Multistrand Slide Clasps
Multistrand slide clasps are the most popular clasp to use when you want all the strands of your necklace of bracelet to come together at the closure. You can see how each strand will attach directly to the clasp and then one end of the clasp slides over the other. The photo shows the closed clasp.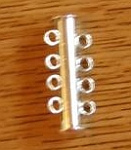 Multistrand Slide Clasp
Multistrand End Bars
Multistrand end bars provide loops for attaching the multiple strands of your piece and feature a single loop on the opposite side for continuing with one strand or for attaching a clasp. Therefore, you might use one of these at the end of your jewelry piece or at a transition point in your design. There are a plethora of styles available for end bars and the photo shows a mere few.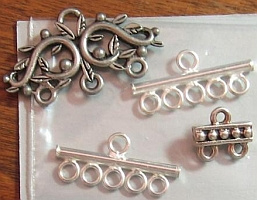 Purchased Multistrand End Bars
You can see a fancy end piece on a bride's nine-strand pearl necklace at the following link: http://www.stylemepretty.com/2009/06/11/diy-project-pearl-necklace/ I hesitate to use the term end bar for the finding on this necklace since it is a circle, yet it is used as an end bar. The clasp attaches with chain to this finding.
I've also seen some end bars that are rectangular shapes such as the one below. Perhaps there is another name for this finding, but I haven't located it. You can see that this one provides holes the wires of your multistrand piece go through on their way to coming together through the single hole on the opposite side. My conundrum is usually what to do with all those strands coming out the single hole. It doesn't look too ominous on this one with only three strands but consider how to deal with it if two strands went through each hole producing six at the end. Then you would have a pretty fat bundle of beading wires.
Triangular Finding for Multiple Strands of Jewelry
The photo above shows that I used a large crimp to bring all the wire together into one secure bundle. Next, I cut off the two outside wires and covered the crimp with a large hole bead. Then I continued stringing. If I had many more than three strands, for example six strands, I would crimp three together in one crimp and three in another.

You'll find an idea similar to this one at http://thisyearsdozen.wordpress.com/2008/10/04/how-to-make-a-20-strand-seed-bead-bracelet/. This link shows how to finish off a twenty strand seed bead bracelet with a similar crimping method. It does not use this particular finding.
If you prefer, you can make your own end bars. Below are some made from wire and one made from a copper disc featuring riveted eyelets I added so that the metal didn't cut the bead stringing wire. Szarka, Magpie Gemstones owner, sometimes uses jump rings to attach each of the multiple strands to the S finding. That way, some of the strands can be removed and then reattached based upon the look you want.

Handmade Endings for Multistrand Pieces of Jewelry
The following shows a necklace I just finished that uses the handmade endings for multistrand necklaces and illustrates how to use these pieces at a transition point in the jewelry rather than at the end for attaching a clasp.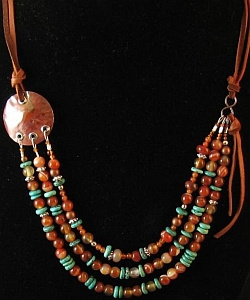 Handmade Connectors on a Turquoise and Carnelian Bib Necklace
Part I of this discussion showed the use of a bead design board and I also used it for this piece even though the strands were shorter than those previously illustrated.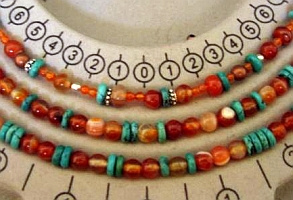 Bead Design Board
The photo below shows the attachment of the strands to the handmade findings. The wires have not yet been clipped in the photo of the disc.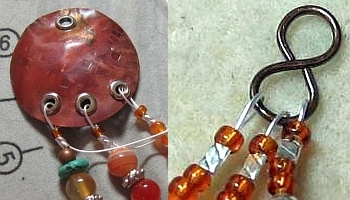 Separators
Below are just a couple of spacers that also come in quite handy for multistrand jewelry. You can see that they simply help to hold the strands in place. You will want to plan the placement of these separators since they may show in your jewelry design. There are many different kinds of separators ranging from these plain ones shown below to some very ornate decorative findings.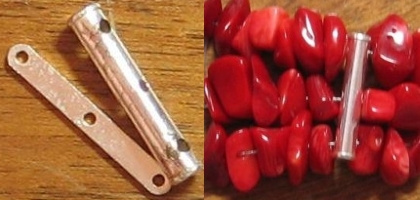 Purchased Separators
The photo below shows the use of separator bars in a multistrand necklace. Here, the bars are used only at the sides of the three strand necklace.

Use of Separators in a Three Strand Necklace
I added more beads to finish this necklace and attached each strand to a multistrand end bar. You can see that I used one that has five loops where I only needed three. This allowed a bit more distance between each strand. (Also, this was the only set I had on hand.)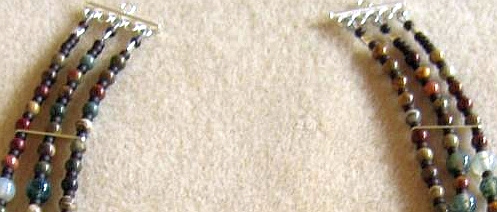 Multistrand Connectors on a Three Strand Necklace
The last photo of this necklace shows that I attached chain to the multistrand end bars and then used a lobster clasp and jump rings for the closure.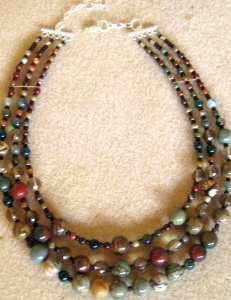 Three Strand Necklace with Separators, Multistrand End Bars and Clasp
It seems to me that this little article could go on and on since there are so many different aspects to multistrand jewelry pieces. I hope that the information provided is ample to get you started (or finished) with a multiple strand project.
I'm always glad that I made pieces with more than one strand, but also glad when I get them finished. They do require a little extra time and planning, but they are certainly worth it. The job is considerably easier if you have the right findings for the specific jewelry piece. If you are making this type for yourself, I know you will get many compliments and if you are selling your pieces, I've learned these go pretty quickly.
Good luck . . . I'm off to string a single strand of something or other!
Check out Part 1 if you missed it.
Karen Meador
**Contributing authors are noted and linked to in the articles they wrote. All articles are copyright. You can reprint these articles as long as the original author is sited and a link to their site and this website is included. The name Magpie Gemstones must be used as the hypertext.