Setting up for a Show
Ideas on setting up for a jewelry show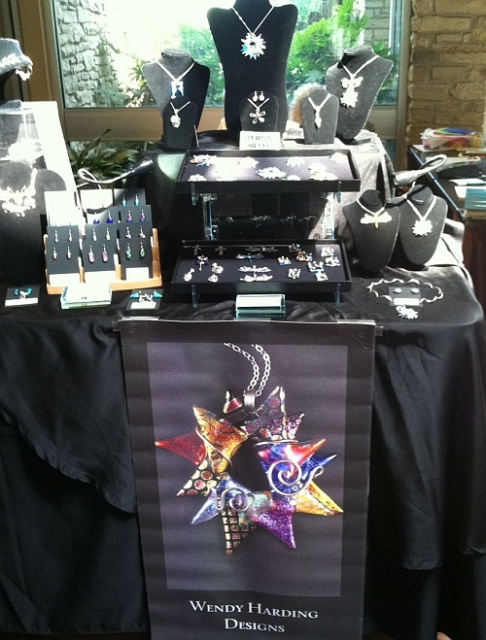 Setting Up for a Jewelry Show
If you are just starting to plan for your first jewelry or craft show, you'll want to think seriously about how to set up your space. It seems that the most important part of show preparation is making your products, but if the product isn't displayed well, it will be hard to entice those customers. Below is a brief list of things to consider as a minimum in setting up your show display. These are probably obvious, but do bear mentioning. Included are photos from client's showing off their displays.
Use a plain colored tablecloth that covers to the floor

Create different levels or tiers on the table

Use stands and holders as opposed to laying things flat on the table

Provide a mirror for customers to look in when trying pieces on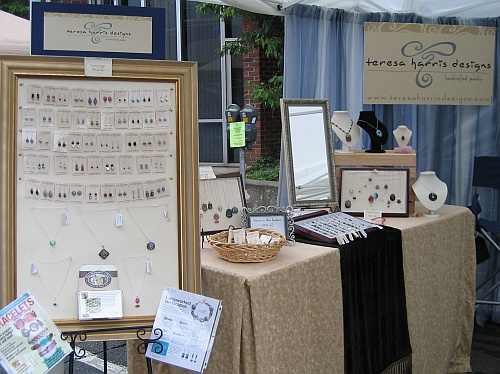 Tablecloth
It's nice if your cloth is made of something that will not wrinkle. I have one I made from a very lightweight black knit fabric. Any wrinkles shake out nicely even when I haven't folded it well following a show. I also have a no-iron white table cloth, but it does sometimes wrinkle and must be washed following each show. The color that I use depends on the type show and the look that I want to achieve. I have also seen other artists use a second covering over a cloth. For example, one vendor of western jewelry lays an animal hide atop her cloth. Beware of any type covering that might shed on your other display items and jewelry.
Display Levels/Tiers
Create different levels or tiers on top of your table to add interest and provide more room for your display. You can place empty boxes under the tablecloth or utilize decorative items to place jewelry on. For example, interesting small wooden crates or upside down baskets can be used. A piece of jewelry can sit atop one of these or you may want to place a necklace display bust on top of the tier for additional height.
Cynthia Beller
Some vendors raise the entire table by placing pvc pipe on each table leg. They want to help raise the jewelry so that customers are not bending over the table. If you try this, be sure that the table is stable enough that it won't fall when someone leans on it.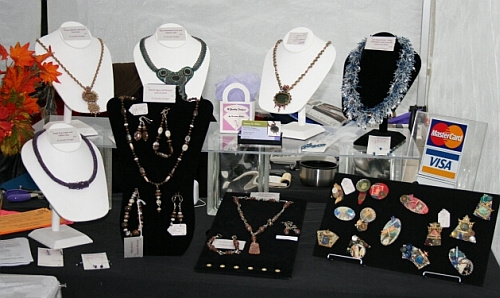 Jewelry Stands, etc.
Commercial jewelry display items are readily available online and at some jewelry shows. These are usually covered in black or white leather or velvet. If you want a different look, you can make some of the display items. Picture frames may be converted to necklace holders by attaching small nails or hooks in the top back for securing the jewelry that hangs in front of the frame. You can roll up a piece of velvet or other fabric and slip fastened bracelets on to or over the roll. Smaller rolls work for rings. I have seen vendors use deer antlers as displays for necklaces and screen wire mounted in picture frames for displaying earrings. One vendor hangs earrings from a bare tree branch secured in a concrete filled flower pot.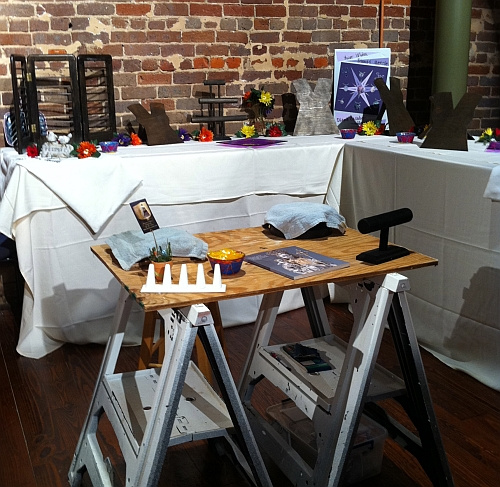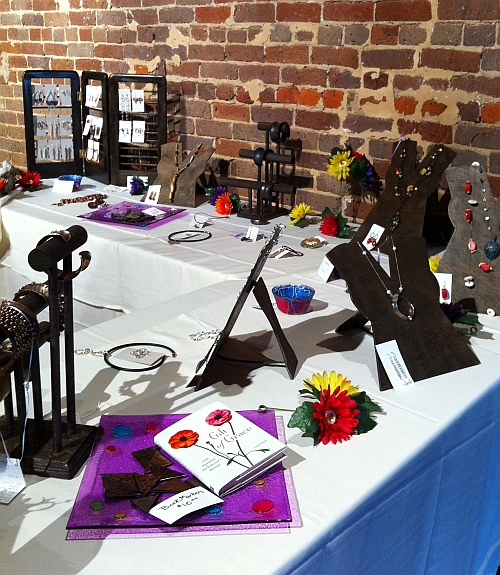 Mirrors
At a minimum, provide a mirror for your customers. Many a woman will want to see how the necklace looks around her own neck. I also use a number of flat mirrors throughout my display either under pieces on the table or leaning against a tier.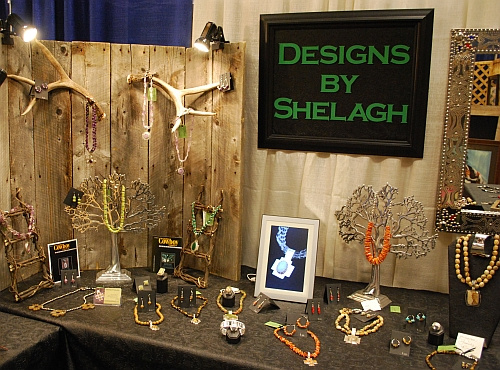 Booth Personality
The information above sets the stage for your display; however, you may want to give your booth a specific personality. I mentioned a person who sells western style jewelry and covers her table with a hide. She also uses rocks and deer antlers within her display. An upside down small tin bucket would also make an interesting tier for this style booth.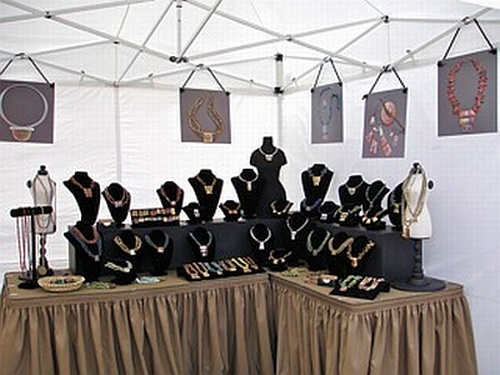 If you go more for the antique style, select old wooden pictures frames to use as mentioned in the section on jewelry display items. You might consider painting these white and then chipping off some of the paint or distressing them in another manner. Old wooden bowls can hold bracelets or pins and antique tins make nice tiers. Another tier can be made with old books covered by a lace handkerchief. I've use a bible in this manner to display my cross necklaces.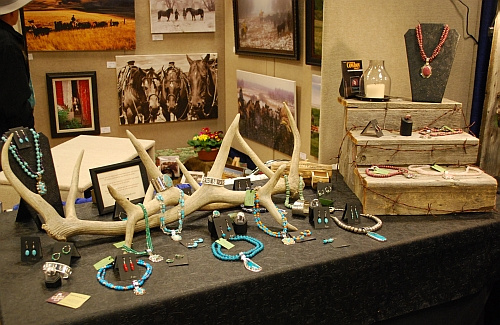 Lighting
Many vendors add lights to their display area. These can be helpful depending upon the setting for the show. Vendors usually pay extra to have electricity in their booths.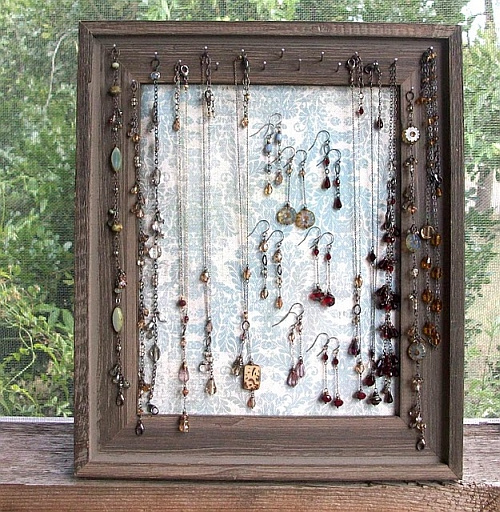 Take a Good Look at Your Display
When you finish setting up your jewelry display, stand back and act like a customer. Is this a place that you would want to stop and consider making a purchase? Are there any specific things that catch your eye? Is there so much in the display that it is difficult to discern what is available? My tendency used to be to get as much product into my display as possible. Now, I realize that less may be more and the shopper's eye does need somewhere to stop rather than just viewing too many pieces. Now I keep extra jewelry below my table. If a customer is interested in a particular style or color, I can then pull out anything I've kept below for his/her perusal. When I do this the customer often feels quite special.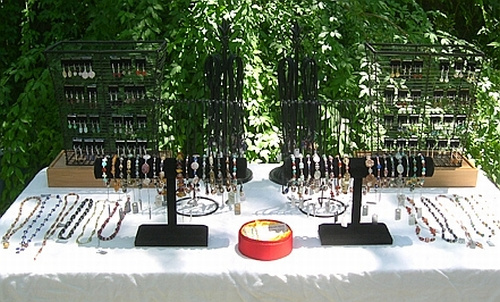 Extras
Finally, although these are not display items, they certainly help you maintain your booth. I carry a lint roller for cleaning my displays. This is particularly helpful on the velvet commercial display pieces that I use and on my black tablecloth. If you use any leather in your jewelry pieces, you will see that these leave behind a residue on your display. The lint roller makes quick work of the leftovers.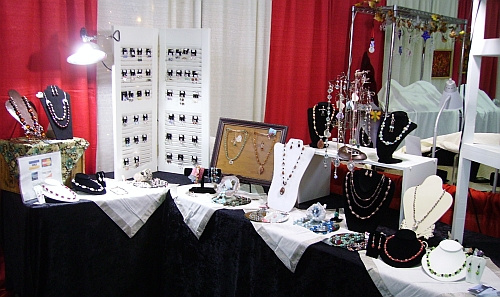 I also carry a glass cleaning product and rag. I've yet to figure out how the mirrors get so dirty during a show, but it is sometimes necessary to clean them while you are there.
You can find considerable additional information online regarding how to set up for a jewelry show. I hope this brief article has given you the basic things to think about and will get you on your way to setting up a showcase for your pieces. Good Luck!
Karen Meador
Dream Catcher Designs
Subscribe to my jewelry blog at www.dreamcatcherranch.net/designs/
____________________
Dr. Karen Meador
Dreamcatcher Consulting
http://www.dreamcatcherranch.net
www.dreamcatcherdesigns.etsy.com
**Contributing authors are noted and linked to in the articles they wrote. All articles are copyright. You can reprint these articles as long as the original author is sited and a link to their site and this website is included. The name Magpie Gemstones must be used as the hypertext.