Turquoise Comparison
... is what I have turquoise? A list of stones often called turquoise in the trade. Some are and many are not. If you have any questions about the gemstone you have and whether or not it is turquoise, take a look at the pictures and see if you can identify the bead you have.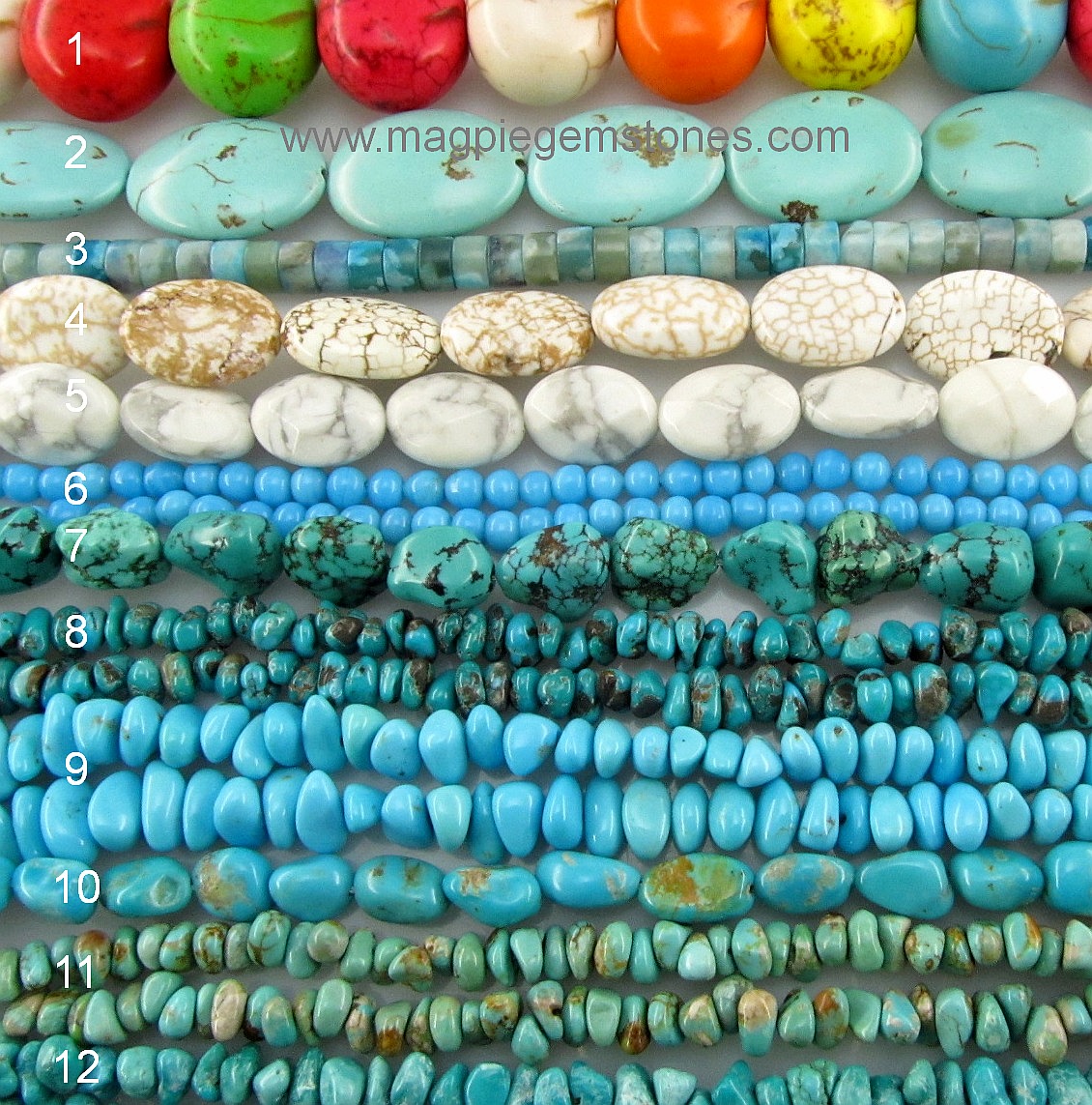 Top to bottom
1. Many colors of dyed magnesite
2. Magnesite dyed blue
3. Turquoise jasper
4. Magnesite white with brown lines
5. Howlite, notice the grey matrix
6. Block turquoise
7. Hubei green turquoise clear stabilized, natural color
8. Carico Lake turquoise
9. Sleeping Beauty turquoise
10. Kingman Arizona, clear stabilized
11. Australian turquoise
12. Fox turquoise

To put all of this in perspective, 10 strands of the howlite or magnesite can be purchased for what a strand of the North American turquoise would normally cost.

There are other colors out there right now, everything from purple to pink to yellow to red to mosiacs. I personally know of two producers in Arizona that makes some of these products from stabilized and color shot low grade material. There very well may be other producers I am not aware of. Most of all I see on the market and at bead shows is dyed magnesite or something similar.
To read an article on learning about turquoise click here.
Disclaimer: I am not a gemologist, or geologist. I design with many stones and sell them. I believe everything has its place and at the same time, there is no need to knowingly misrepresent a product. This information is accurate to the best of my knowledge and is not intended for anything other than a sharing of understanding and knowledge.
**Contributing authors are noted and linked to in the articles they wrote. All articles are copyright. You can reprint these articles as long as the original author is sited and a link to their site and this website is included. The name Magpie Gemstones must be used as the hypertext.