Wire Woven Earrings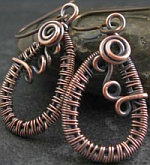 This is a short tutorial I put together for a class I taught through the Flint Schools. I figured out how to upload it to Docstoc.com and make it available to anyone who is interested. I hope you have fun with it. I have two others I will try to get up soon.

Nancy Wickman
My blog
1000 Markets
My Artfire shop
My Etsy shop
Nancy Wickman's Wire Woven Earrings
Click filename below to access file
**Contributing authors are noted and linked to in the articles they wrote. All articles are copyright. You can reprint these articles as long as the original author is sited and a link to their site and this website is included. The name Magpie Gemstones must be used as the hypertext.