All the "Other" Agate Gemstone Beads, Pendants and Cabochons
Premium quality wholesale Agate gemstone beads, pendants and cabochons for jewelry making and designing. Carefully selected gemstones help you create outstanding necklaces, bracelets and earrings. Agate gemstones, appreciated by jewelry designers for the myriad of colors they offer, usually occur as nodules in volcanic rocks. These develop as each Agate fills the cavity of its host rock. Agate, a type of chalcedony composed of quartz layers, is striped by nature and appears in a variety of types and colors. The name of each type of Agate, such as Black Agate, is usually based on the color and/or the geographic location where the variety is mined. It is sometimes confused with jasper, another member of the chalcedony family, which has less distinct patterns than Agate. Mining for Agate occurs in a variety of geographic locations including Australia, Canada, Mexico and the U.S.A. It is a cooling stone said to help improve memory and concentration and to encourage honesty. It is purported to promote strength and increase stamina while also curing insomnia. Some wear Agate as protection against danger.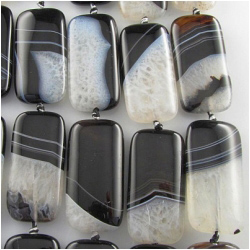 2 Agate banded with quartz rectangle gemstone focal beads (H) 24.5 x 48.8mm to 48.8 x 50mm, 8.6 to 9.5mm thick. 2 pieces.
2 Agate purple banded with quartz tear drop gemstone pendant beads (D) 24 x 33mm to 25 x 34mm, 6.4 to 8mm thick. Some natural rough spots. 2mm hole. 2 pieces.
Agate crackle fire oval gemstone beads (HS) 21 x 28mm to 22 x 30mm, 5.3 to 7.8mm thick. 15 inch.
Agate crackle fire rectangle gemstone beads (HS) 13 x 19mm to 15.5 x 20.5mm, 4.7 to 7mm thick. 15.5 inch.
Orange Agate rondelle gemstone beads (N) 5.3 to 5.5mm diameter, 2.7 to 3.2mm thick. 15.5 inch.
1 Fossil Coral Agate pendant gemstone bead (N) 34x41mm, 5.5-8mm thick. Size does vary slightly.
Agate white long rice gemstone beads (D) 10x29mm to 10.7x30mm. 15.5 inch.
Agate white puff rice gemstone beads (D) 7.6x16mm to 8x16.5mm. 15.5 inch.
Agate white tube gemstone beads (M) 4.1x12.7mm to 4.3x13.4mm. 15.5 inch.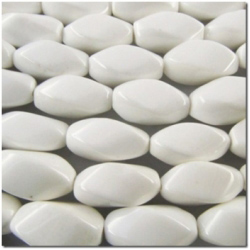 Agate white twist rectangle gemstone beads (D) 8.5x16mm to 8.8x16.5mm, 7.4-8.3mm thick. 15.5 inch.
One 16 inch strand of Fossil Agate puff coin gemstone beads (N), 10mm diameter.
One 15.5 inch strand White Agate synthetic(M) long nugget beads 5x13mm up to 8x24mm 3.5-7.5mm thick.