Amazonite Gemstone Beads, Pendants and Cabochons
Premium quality wholesale Amazonite gemstone beads, pendants and cabochons for jewelry making and designing. Carefully selected gemstones help you create outstanding necklaces, bracelets and earrings. Designers select Amazonite in blue or green and find that this stone can stand alone in beautiful jewelry. This blue green mineral is a type of microcline feldspar and is most commonly found in Australia, Madagascar, Namibia, Russia, the U.S.A. and Zimbabwe. Although the name Amazonite was derived from the Amazon River where many green stones were found, this green feldspar does not exist there. Some of the healing properties often associated with Amazonite include the alleviation of muscle spasms, stress and exhaustion as well as skin improvement. It is also believed to help with clarity of thought, social interaction, and marriage.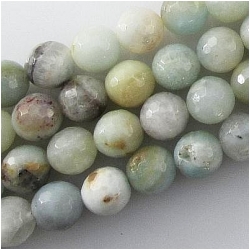 The store is closed for vacation until August 15th.
Disclaimer: This information has come from many sources. We are not responsible for the information presented on this page expressed or implied about the suitability of this stone for healing or for curing diseases. The information here is provided for you to make your own decisions and has not been evaluated or approved by FDA or any other agencies. This list is protected by copyright. If you should decide to use it you must link to this page as the source and to Dr. Karen Meador as the Author.: