Charoite Gemstone Beads, Pendants and Cabochons
Premium quality wholesale Charoite gemstone beads, pendants and cabochons for jewelry making and designing. Carefully selected gemstones help you create outstanding necklaces, bracelets and earrings. This mineral ranges in color from lavender to dark purple and has a swirling pattern. It was not widely known until 1978 perhaps since it is unattractive when located in the field. Jewelry makers are certainly glad that someone finally noticed its beauty. The mineral was first discovered in Russia and true Charoite can only be found there. Some say if Charoite is placed under the pillow, it will take away the fears that come in dreams.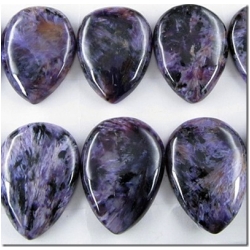 1pc Charoite drop cabochon gemstone (N) 21.6 x 30.2mm to 22.5 x 30.8mm, 4.8 to 5.5mm thick.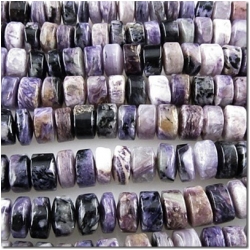 Charoite rondelle disc gemstone beads (N) 8 to 8.2mm diameter, 3.8 to 5mm thick. 16 inch.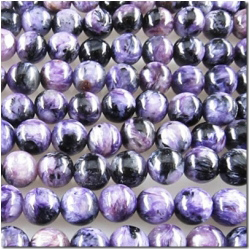 Charoite round gemstone beads (N) 5.9 to 6.2mm diameter. 16 inch.
1 Charoite oval gemstone cabochon (N) 17.8x24.9mm to 18.2x25.1mm, 5.5-6.2mm thick.
Charoite drop gemstone beads (N) 9.4x14.1mm to 10.7x15.4mm, 4.4-5.5mm thick. 15.5 inch.
1 Charoite AA gemstone cabochon (N). 25.4x41.3x75mm thick.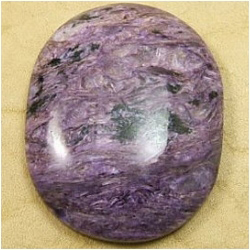 One Charoite gemstone cabochon (N) 36.8 x 47.4 x 9mm thick. Backed.
12 Charoite coin beads. 16-16.3mm diameter, 6-7mm thick. (N) gemstone.
14 Charoite oval beads. 10x14x6mm thick. Good cut and polish. (N) gemstone.
One 16 inch strand Charoite multishape beads. Approximately 6mm diameter. Lengths vary, 3.5-7mm long. Mainly barrels with some rondelles and discs on most strands. These are good looking in person. (N) gemstone.
One 15.5 inch strand Charoite coin beads. 8.2-8.5mm diameter, 4.5-5mm thick. Nice cuts and polish. (N) gemstone.
Disclaimer: This information has come from many sources. We are not responsible for the information presented on this page expressed or implied about the suitability of this stone for healing or for curing diseases. The information here is provided for you to make your own decisions and has not been evaluated or approved by FDA or any other agencies. This list is protected by copyright. If you should decide to use it you must link to this page as the source and to Dr. Karen Meador as the Author.