Creative Thinking in Jewelry Design Part 3
Originality and Elaboration
This is a continuation of the discussion of creative thinking in jewelry design. Although not absolutely necessary, if you have already read the series introduction, The Rubber Band Approach to Developing Creative Thinking in Jewelry Design andPart I in previous newsletters or on Magpie Gemstone's website this section will make more sense.
Part I discussed fluency and flexibility, the first two components of FFOE, and this continuation focuses on originality and elaboration. We may all have our own interpretation of originality in jewelry design. What appears to be new, different and unique to one may be "old hat" to someone else. "Originality results when something is created for the first time (Meador, 1996)." If you make a piece of jewelry that is new to you and that you haven't copied or previously seen, then you have employed original thinking. It is difficult to label pieces as such since most of us spend time thumbing through photos of jewelry pieces in magazines and looking at the work of others. Our thinking is, of course, influenced by the sum of what we have seen and experienced and that affects what we design.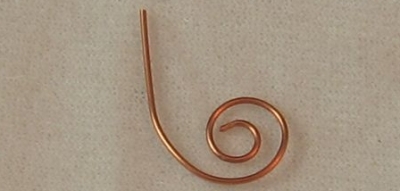 Let's continue with the basic swirl used in Part I of this series . You will recall that this swirl was featured in a bracelet designed by someone else and shown on the cover of a magazine. After considering how to create another shape by applying fluent and flexible thinking, shown in Part I, I selected the square swirl to remake the initial bracelet. At the top of the photo is my bracelet similar to the one in the magazine and at the bottom is another using one of the other shapes I produced by thinking fluently and flexibly . Is the bottom bracelet original? Yes, because it is not one that I have previously made or seen.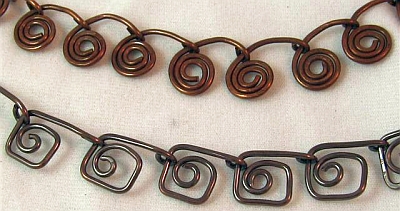 Original thinking also led me to the use of the swirl shape in a necklace .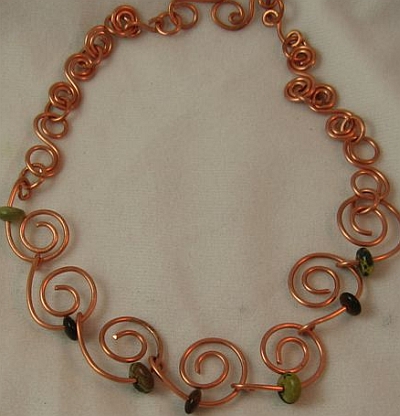 This is a logical step and although it is original, like the square swirl bracelet, I don't think it would break any records if there were a scale for originality. Finally, I stretched myself to think of something truly original that would break more boundaries. I know that the more I stretch a rubber band on my finger, the farther it will fly. It's the same with creative thinking. The more I stretch, the better the possibility of an outstandingly original idea.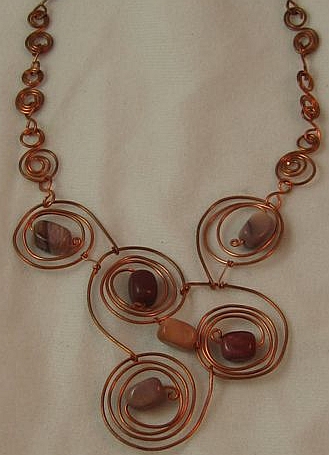 Juxtapositioning the swirls, I used them to form the focus of a necklace . Here is a second necklace made in a similar fashion .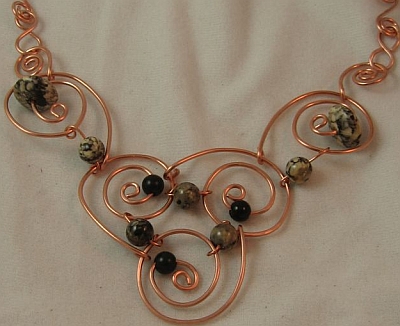 Whether you like these pieces or not, wouldn't you agree that they are much more original that the first two examples? I'm also going to try this design with the square swirls and other adaptations. Part of the trick with originality is continuing to think fluently to create many ideas without stopping with your first original idea. As mentioned in Part I, you can't tell if you have the best idea until you have exhausted them all (or simply gotten too tired or run out of time).
The three necklaces also depict elaboration, the embellishment of an idea, with the beads that were added. Webster defines elaborate as "worked out carefully; developed in great detail." Elaboration on the second and third necklaces also involved how to wire the swirls together so that they would stay in place as well as determining the appropriate necklace length to best feature the focal part. I often think of elaboration as the most critical part of creative thinking since it can make or break your design. The message here is "don't skimp on time when you reach the elaboration stage of your creative thinking process." In clearer terms, "don't hurry to finish that design!"
Now that you know the meaning of FFOE, what happens if you have difficulty thinking creatively? There are times when you say "OK, now I'm going to create something truly original" but nothing hatches. Luckily, there are many things we can do to aid the creative thinking process and that will be the focus of the next article; but, don't wait for that section. Begin looking at your own designs and considering how you are already applying fluency, flexibility, originality and elaboration.
Karen Meador
**Contributing authors are noted in the articles they wrote. All articles are copyright. You can reprint these articles as long as the original author is sited and a link to this website is included. The name Magpie Gemstones must be used as the hypertext.