Howlite Gemstone Beads, Pendants and Cabochons
Premium quality wholesale Howlite gemstone beads, pendants and cabochons for jewelry making and designing. Carefully selected gemstones help you create outstanding necklaces, bracelets and earrings. Howlite is naturally white and often has a dark gray or black matrix. It can be mislabeled as white turquoise or buffalo turquoise. Since is it very soft and porous, It is often dyed to imitate other more expensive stones. This allows the bead to provide jewelry makers with a variety of colors for use in designs. Most Howlite comes from North America. Howlite may encourage reasoning and observation and aid progress and growth in knowledge. Some say it helps eliminate stress and anger and encourages patience and tact. It may also help the body absorb and distribute calcium as well as aid in the elimination or pain.
Howlite faceted oval gemstone beads (S) 10.7x14.5mm to at least 11.5x15mm, 6-7mm thick. 14.5 inch.
1 Howlite bear fetish pendant gemstone bead (S). 21x30mm to 23.5x32.5mm, 9-11mm thick. Drilled top to bottom.
One Howlite 19 x 30 x 10mm thick with a 2mm hole gemstone frog fetish bead (S). Nicely carved and good quality.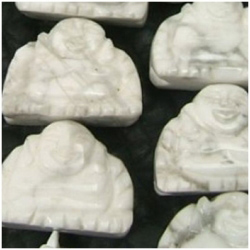 One Howlite Buddha gemstone bead (S). 16 x 20mm to 18 x 24mm
One White Howlite Kokopelli gemstone bead (S). 27 x 40mm The holes in ths are the ones you see.
One Howlite fancy pendant gemstone bead (S). 32 x 65mm with a 3mm hole
Ten Howlite big hole cube gemstone beads (S). 7.5x7.8mm to 8.2x8.4mm. 2.5mm hole
Disclaimer: This information has come from many sources. We are not responsible for the information presented on this page expressed or implied about the suitability of this stone for healing or for curing diseases. The information here is provided for you to make your own decisions and has not been evaluated or approved by FDA or any other agencies. This list is protected by copyright. If you should decide to use it you must link to this page as the source and to Dr. Karen Meador as the Author.