How to Wire Wrap Jewelry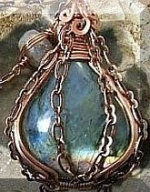 I get asked this once a week and I give everyone a different answer depending on their skill level but there are some things that are universal that I say.

Most people don't like my initial answer. I tell them to go for a walk and pick up a handful of rocks they think are pretty. Then head over to the hardware store or craft store and pick up some wire. 22 gauge preferably but 20 or 18 is fine. Get a pair of needle nose pliers (gasp yes I said needle nose) that you have in your tool box and spend a few days trying to capture the stones so you can put them on a necklace.

What you end up with will probably be the ugliest things you have ever seen. Comparable to a horror movie. That's good! The point is not to be perfect. The point is exploration of the medium with no judgments. Get a feel for the energy of wire. It is a force that works according to it's own physics.

This is not just an exercise in frustration. It is a way to get a feel for the curve of a stone and what the wire does when faced with it. It shows you the brittle qualities, chances are you will snap a few wires. It also shows you the essence of wire.

Ok now go to a bead store, or better yet my store or the stores in my links sections and buy the following.

A good pair of round nose pliers, needle nose pliers, flat nose pliers, crimping pliers (yes I use them for wire wrapping), a hand held needle file, and a pair of flush cutters (keep these only for your wire, never cut beading wire or anything else with them.) A 4 inch bench block and a domed hammer are nice to have as well. That is the beauty of wire wrap design. Your tools are so much less expensive than a metal artist and you can fit them all into a small box. That is until you get seriously addicted and wire consumes your work space.

Now you need wire in various gauges. You can start with round wire to practice but if you are aiming for border wraps then you will want square and half round. Square holds it's shape when next to other wires bound together and half round is what you use to bind with. So the list below is for both but just buy the round if what you want to focus on is wrapping beads and making links etc. I still wrap many cabs in round but I like the challenge.

18 gauge round for clasps and thick links
20, 22 gauge round for wrapping beads and stones, making ear wires.
26 and 28 gauge for weaving beads, crocheting Viking knit
22 and 20 gauge square
22 gauge 1/2 round to start

I always use dead soft for everything and if I need it to be harder I work harden it with a cloth in my hand running up the wire with a bit of pressure bending it slightly one way and then another, or I hammer it with a nylon hammer etc. I like to work with wire that is large for the work I am doing so I do not need hardened wire usually. You can buy wire in half hard and hard.

The next step can be done throughout this entire process. Go looking. Search Etsy for wire wrapped jewelry. Hit up jewelry forums in Yahoo and look in their files. Especially wire forums. See what people are making and get an idea of what you would like to make. This is not to copy people's designs but to get a feel for the style you are attracted to. Do you like fine wire weaves, big hammered wire, small gemmy stones, large cabochons, clean lines or funky statements? Get an idea of what you like and then focus on that. If you make what you like and are attracted to you will discover your style.

Here are a few links of yahoo wire forum groups, I am an owner of the first one.

Unique Wire Artists
Wire_Wrap_Jewelry
On Facebook
Jewelry Makers and Bead Lovers
Wire Wrap Jewelry Artists

Now head out and look at free tutorials. There are some amazing artists out there that sell tuts for a living and many have beginner tuts for free.
Magpie Gemstones
Jewelry Lessons
Studio Heath
Wigjig
Connie Fox

I could go on and on but why reinvent the wheel? I just goggled free wire wrap tutorials and Mei has a great list on her blog

And that is what I tell them. Play with the wire. Learn what it does and figure out what you want it to do and just keep twisting.
All articles may be copied but Magpie Gemstones and Szarka must be listed as the author and hyperlinked back to this site.