Obsidian Gemstone Beads, Pendants and Cabochons
Premium quality wholesale Obsidian gemstone beads, pendants and cabochons for jewelry making and designing. Carefully selected gemstones help you create outstanding necklaces, bracelets and earrings. Obsidian is dark green to brown or black and is formed when volcanic lava comes in contact with water. Iron and magnesium give obsidian its color. It is not only used currently in jewelry design, it is also used in dating since it weathers slowly and uniformly. The thickness of the weathered layers produced over time can be compared to a standard. Small obsidian nuggets that have been smoothed and rounded by wind and water are often referred to as Apache Tears. Obsidian occurs most notably in Iceland, Italy, Japan, Java, Mexico, Scotland and the U.S.A. It has been implied that obsidian may be used for gaining a clearer insight into problems. Some maintain that it can help improve vision, and aid the stomach and intestines.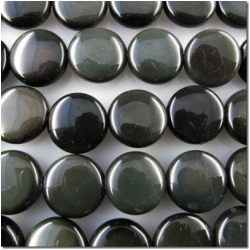 Obsidian Rainbow puff coin gemstone beads (N) 13.7-14mm diameter, 5.5-7mm thick. 15.5 inch.
Obsidian Black round gemstone beads (N) 17.9-18.2mm diameter.15.5 inch.
Obsidian Gold Sheen puff coin gemstone beads (N) 15.6-15.8mm diameter, 6-9mm thick. 15 inch
1 Gold Sheen Obsidian AA marquise gemstone cabochon 14.4x36mm to 14.8x36.5mm, 5.5 – 6mm thick.
One Mahogany Obsidian fetish bear bead approximate size 13 x 18mm drilled top to bottom (N) gemstone.
One Mahogany obsidian kokopelli pendant bead 28 x 40mm (N) gemstone.
One Snowflake Obsidian buffalo fetish bead approximately 7.5 x 12mm drilled top to bottom (N) gemstone.
10 brown 8mm Mahogany Obsidian rondelle beads (N) with 2mm holes. Not all are perfect. Some holes are blown out a bit and 2mm is the approximate hole size. The finish and the stone are high quality though and I was able to get these at this unbelievable price because of the holes.
Ten Snowflake Obsidian big hole cube beads 5.5x5.6mm to 6x6.2mm 2mm hole (N) gemstone.
Ten Snowflake Obsidian big hole cube beads 7.6x8mm to 8.5x8.8mm 2mm hole (N) gemstone.
Ten Snowflake Obsidian flat square double drilled beads approximately 10mm x 5mm thick some chipped corners and edges (N) gemstone.
One 15.7 inch strand Mahogany Obsidian rondelle gemstone beads 8mm diameter (N)
Disclaimer: This information has come from many sources. We are not responsible for the information presented on this page expressed or implied about the suitability of this stone for healing or for curing diseases. The information here is provided for you to make your own decisions and has not been evaluated or approved by FDA or any other agencies. This list is protected by copyright. If you should decide to use it you must link to this page as the source and to Dr. Karen Meador as the Author.