Unakite Gemstone Beads, Pendants and Cabochons
Premium quality wholesale Unakite gemstone beads cabochons and pendants for jewelry making and designing. Carefully selected gemstones help you create outstanding necklaces, bracelets and earrings. This granite gemstone is composed of colorless or white/gray quartz, pink feldspar and green epidote usually providing unakite with a mottled look. Unakite is often used for carving as well as in jewelry design. Although most unakite comes from the U.S.A., it is also mined in South Africa, Brazil and China. Although it may be difficult to recall professed beliefs about many of the gemstones, Unakite may more easily be remembered as unifying aspects of self including emotional, mental and spiritual. Since it is supposed to help remove the blocks that may stop one from moving forward, it may also prevent dwelling in the past. Unakite may help with a healthy reproductive system and stimulate a healthy heart and circulatory system.
1 Unakite big hole melon gemstone pendant bead (N) 17x24mm to 19x25mm. 2mm hole.
1 Unakite big hole round gemstone bead (N) Approximately 20mm diameter, 3mm hole. Some have minor scratches.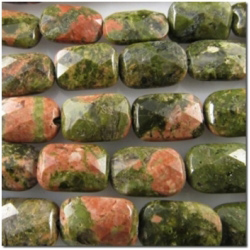 Unakite faceted puff cushion gemstone beads (N) 7.8x11mm to 8.1x12mm, 4.2-5mm thick. 16 inch. Some chips and rough spots.
Unakite faceted rectangle gemstone beads (N) 9.9x13.5mm to 10.4x14.4mm, 4.9-5.6mm thick. 15.5 inch.
One Unakite bear fetish pendant gemstone bead (N) 21x29mm to 22.5x30mm, 8-9mm thick. Drilled top to bottom.
10 Unakite big hole tube gemstone beads 7.6 to 8.2 x 11 to 13mm long with a 2mm hole, natural (N).
10 Unakite double drilled flat square gemstone beads approximately 10mm x 5mm thick, some chipped corners and edges, natural (N).
One 16 inch strand Unakite cushion gemstone beads 10 to 11 x 13.5mm long and 4 to 5mm thick, natural.
One 7 inch strand Unakite puff square gemstone beads 8 to 8.3mm long x 5.7 to 6.2mm thick, natural (N).