Improving Your Technique
Fine Tuning Jewelry Making : Stages in Becoming a Jewelry Artist

Initiation . . . when I first began to make jewelry, I was pleased when I could simply get the crimp to hold the clasp on my strung necklace. I couldn't do it the first time and when I finally got them to hold, they looked pretty messy. My only goal was to put a piece of jewelry together in a reasonably pleasing fashion.

Realization . . . crimping finally became an easy task and I learned to do it neatly. As I ventured forward into jewelry design, I realized that I needed to learn to do some wire work if I wanted to be more creative on my pieces. As with crimping, I was initially pleased to make a simple wrapped loop and actually didn't notice how crooked it looked. It wasn't until my expert friend began to nonchalantly "fix" my pieces that I realized there was more to wire work than I originally thought. Although my friend seemed perfectly happy to correct my mistakes, I wasn't pleased that she needed to do it. This was, however, the impetus I needed to up my wire game. The problem was that I didn't know what to look for.

I have the feeling that there are others like me whose work may not improve simply because we do not understand the goal. I now recognize that my technical flaws cannot be excused by calling my style organic. The product/outcome can be technically correct AND organic.

Understanding . . . it wasn't enough for me to realize I needed to improve; I had to understand what to do. I began to pay more attention to the technique of other more competent jewelry makers instead of just looking at their designs. I also began to ask questions. For example, what do wire workers watch for when making wrapped loops? What is important to think about when wrapping a cabochon? In other words, what should I be looking for in my own work?

Development . . . It seems like half the battle in my own technique development continues to be finding out what to strive for in each technique. But the other half has been and remains practicing a technique over and over until doing it correctly becomes habitual. Then I can focus on how to create and make wonderful pieces in my style. I used to advise my piano students that they should play Bach the way Bach intended. Then they could improvise on something else using good technique. I think it's the same with making jewelry. My problem has often been that I tried to improvise so early in my development that I impaired my work on technique.

The understanding of my own development has evolved largely through experiences with the students in my jewelry classes. In class, I make and bring various examples, good and not-so good, for which students can provide critiques and make suggestions for improvement. By doing so, I hope they begin to do the same for their own pieces. I use guidelines in order that students realize what to look for in their work.
Example 1 – Wrapped Loops

1. Wire gauge is adequate for bead size
2. Wraps are aligned and side by side
3. Loops are an appropriate shape and size
4. Wrap is tight against bead
5. End of wire is neatly tucked
6. Wrapped loops are consistent in size (when more than one shown on a single piece of jewelry)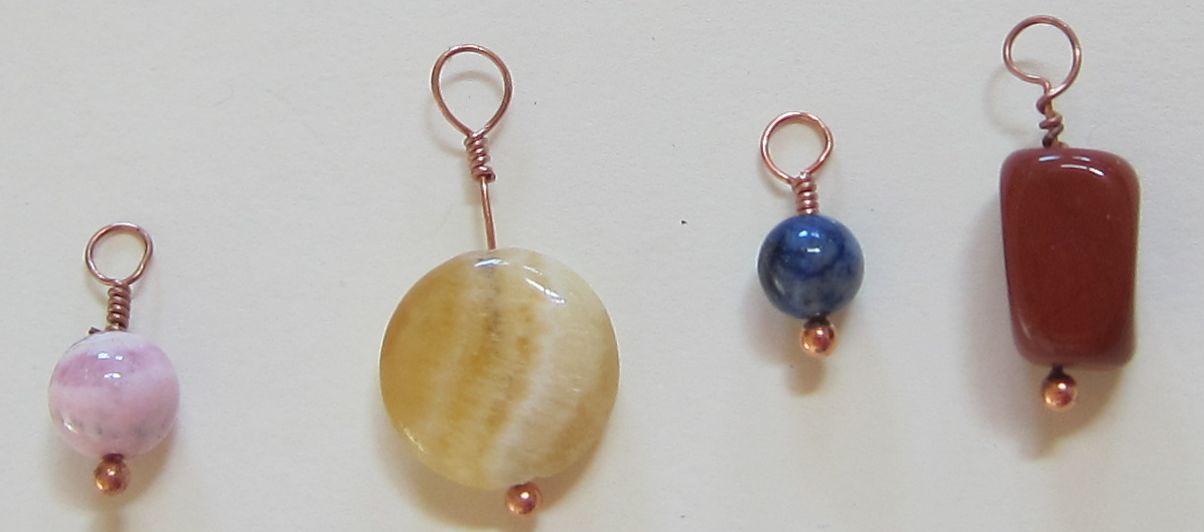 There are some obvious problems with one or more of these wrapped loops. Take a look at the guidelines for wrapped loops above (a through f) and consider which specific guideline needs to be applied for correcting one or more loops.


Are you thinking?

Which of the above would you want to "fix" or at the least attempt to improve upon.
We could consider a similar checklist for other components of wire work. For example, I make a great deal of handmade chain containing various links, jump rings and clasps. There are some specific things I should check for on these components, many of which are the same for several other findings. Although guidelines "e" and "f" below are indicated for specific findings, "a" through "d" also apply to those components.
Example 2 – Links, Jump Rings, Clasps

a. Wire gauge is appropriate for size and shape of finding
b. Tool marks (including hammer marks), if evident, enhance rather than detract
c. Findings are smooth enough that they do not catch on clothing or irritate the skin
d. Loops are closed flush and do not overlap unless appropriate
e. Size of similar pieces is consistent (if indicated)
f. Clasp: parts of clasp are appropriately sized for partner
g. Jump rings: rings are consistently correct shape with tight/flush closures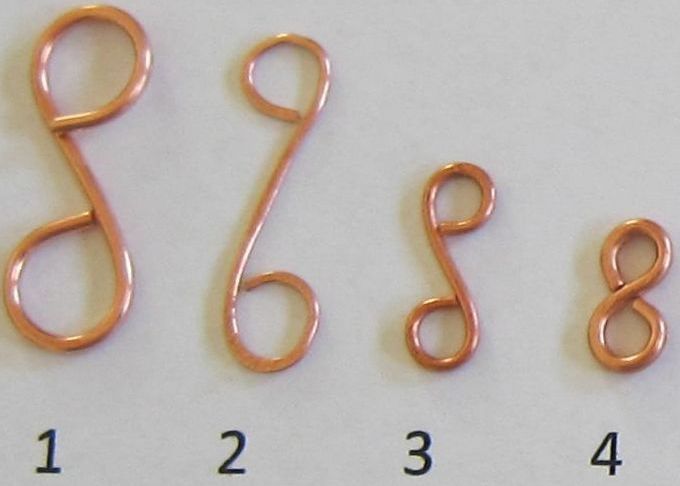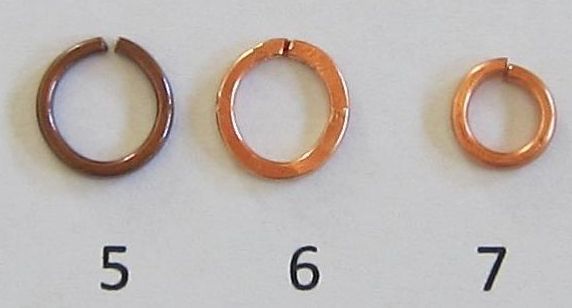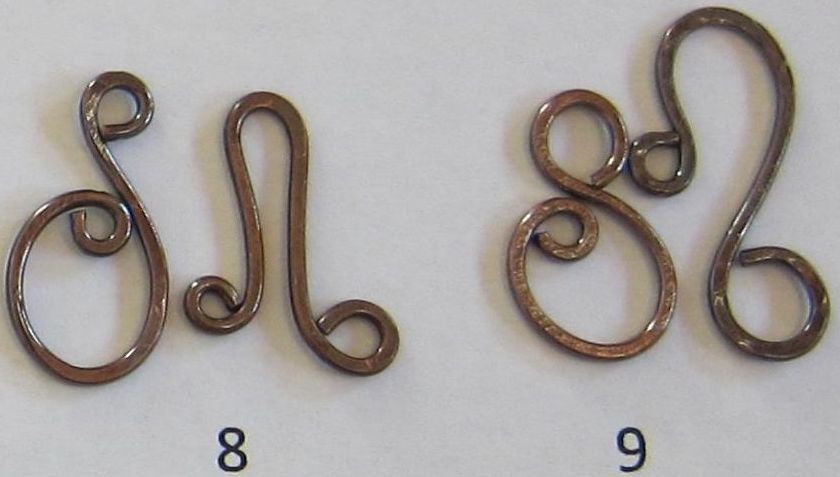 Again, there are some obvious problems with one or more of these components. The guidelines above may be applied to them.

When I looked at the examples, my first thought was "oh my, I wouldn't want to do that." But my second thought was "oh my, I think I've done that!" Realistically, I know that when I'm hurrying to finish a piece and on my 30 or 40th jump ring, I'm not as careful as I probably should be. I realize that these are handmade, not manufactured and there may be some flaws. Yet, if I know what I'm striving for, the task seems less daunting and I can try to improve each time I do wire work.
I recognize that these examples could go on and on as we worked our way through the hierarchy of wire techniques, but I think the criteria would soon become redundant. They would certainly continue to include appropriateness of wire gauge, absence of unattractive tool marks, closure of loops, etc. It seems to me that much of this boils down to whether the artist is controlling the wire such that it reflects planning of a specific look rather than the result of ineffective (sloppy) technique.

The query now, however, is whether this is all it takes to become an artist. To this I unquestionably answer "NO". Technically correct work may be the foundation for the art, but the artist builds upon this to add creativity and style. As the artist develops his/her style, it becomes evident and often recognizable in the work. The artist utilizes that panache rather than copying standard pieces or the work of others. The artist seldom if ever looks at someone else's work and says "I want to make that". It is more likely that the color of the piece or some small element in it stimulates a new and different image in the artist's mind since artists don't want their pieces to look like the work of someone else. Perhaps this is akin to not wanting to see the dress you are wearing on someone else at a party.
I've written briefly herein suggesting stages in becoming a jewelry artist including initiation, realization, understanding and development. The latter, development, likely continues throughout the life of the artist and might be termed refinement. It involves much experimentation with style and material combinations, presentation of the work to the community of wearers and admirers, and continued development. I don't believe a true artist is ever completely satisfied with the work, but continually strives to do more and create something new. The answer to the question of "are we there yet" would surely be "not yet."

Whether you are "there yet" or just beginning, I hope that some of the thoughts in this treatise will be helpful and that you will reflect upon what they mean for your journey to become a jewelry artist.
This article is protected by copyright. If you should decide to use it you must link to this page as the source and note Dr. Karen Meador as the Author.
Karen Meador
**Contributing authors are noted in the articles they wrote. All articles are copyright. You can reprint these articles as long as the original author is sited and a link to this website is included. The name Magpie Gemstones must be used as the hypertext.